Delhi ITI Admission 2023:  Registration portal for ITI Delhi admission 2023 will be open in the Second week of May. Applicants may register for their preferred course in the ITI Delhi Admission portal till the scheduled last date of 16 June 2023. 
Latest Updates:
Delhi ITI admission 2023 will be started in the Second week of May 2023.
ITI Delhi admission 2023 last date will be 16 June 2023 (Tentative).
Students will be able to apply at the official website for the 2023 session and eligible students have to check regular updates at @www.itidelhi.admissions.nic.in. The admission process will go online and offline both. Those students who wish to apply offline can go through the University Regional Centre. 
The students may pick any of the courses such as Cosmetology, Carpenter, Commercial Art, Computer Hardware & Network Maintenance, Electrician, Plumber, Sewing Technology, and more. Admissions will grant on passing the 10th with relevant studied subjects.
Aspirants who aim to become ITIs in different trades are chosen by the Delhi Department of Training and Technical Education (DTTE) each year, which conducts Delhi ITI Admission.

In Delhi, there are 19 government-aided ITI colleges where seats will be allotted to qualified candidates.

Candidates must have completed 10th or 12th class with science, commerce, or arts from a Dignified board.

The applicants must be more than 14 years for Delhi ITI Admission 2023.

Complete details related to Delhi Pusa ITI 2023 are on the web portal of the DTTE.
The registration for Delhi ITI Admission started in July 2023. The Institute offers certificate courses, vocational training in Engineering, Computer Operator and Programming Assistant, Desktop Publishing Operator, Information Technology & Interior Design & Decoration, etc.
Delhi ITI Admission 2023 Highlights
| | |
| --- | --- |
| Exam Name | Delhi ITI |
| Full-Form | Delhi Industrial Technical Institutes |
| Exam Level | State Level |
| Exam Type | Diploma Level |
| Conducting Body | Department Of Training And Technical Education, Govt. of NCT of Delhi |
| Application Mode | Online |
| Official Website | itidelhiadmissions.nic.in |
| Email ID | caoitiadmission@gmail.com |
Delhi ITI Admission 2023
Admissions for Delhi ITI is going to start from Second week of May 2023. In most cases, registration for Delhi ITI Admission for the latest session usually begins in the Month of July of each year. NCVTs and SCVTs will have the same opportunity to apply for admission. Most of these programs are two to three years in duration, but some may be as short as one year. The institute offers a variety of technical and polytechnic programs in both the technical and polytechnic fields.
The Delhi ITI is controlled by the Government of the National Capital Territory, which is a part of the Indian Union Territory. Either online or in person, students are able to apply for admission to this institute.
Have a look at some of the points that are necessary for aspirants of ITI Admission:
Admission to Delhi ITI will be opened online soon.

Course duration shall be 1-2 year

The ITI registration fee would be INR 200.

The registration fee will be deposited by all students irrespective of category

Registered students will need to submit the Medical Fitness Certificate

Merit will be used to offer admission to the certificate courses

The list of courses in the ITI Pusa Delhi 2023 session and the fee structure are given below.
Delhi ITI Courses: Commerce, Art, Computer Hardware, and Maintenance
The Delhi ITI Admission offers its students various courses. The courses offered are Commercial Art, Computer Hardware and Maintenance, Electronic mechanics, Information Technology, Draughtsman (Civil and mechanical), Digital Photographer, fitter, and many more.

These courses are divided into two parts: the technical-based courses and the non-technical-based courses. The technical one comprises topics related to mathematics and science, whereas the non-technical one is different in all aspects.

They do not require any specialization in any subject except English. The academic requirement also gets decreased for non-technical courses. Make up your mind for one of these trades and register yourself by filling out the form.
Delhi ITI

Eligibility Criteria
The 8th standard or 10th class is the minimum required qualification for ITI Delhi entry. Candidates must have obtained at least a 40% score in their previous qualifying exams with Science and Mathematics's main subjects. Every aspirant should be an Indian Citizen with an age limit of 14 years.
Delhi ITI Admission manages by DTTE and the Government of NCTC of Delhi. The merit list is fluently made by DTTE (Department of Training and Technical Education). For eligibility to apply, the aspirant must have X or VIII class passed.
The candidate should fulfill all the mentioned requirements to appear for the examination. Ensure that they do not have to fill out the registration form if they do not surpass these criteria.
Age Limitation: There is a restriction of age, i.e., age should not be below 14 years. This age is valid from 1 August 2023.
Educative Requirement: The student should have passed class 8th & 10th. The minimum academic qualification required for the examination. But the educational requirements are changed as per the course. For example, the educational qualification required for the Architectural Draughtsman is a higher senior secondary certificate, with mathematics and science being the core subjects.
Other Requirements: The nationality of the candidate should be Indian. The candidate has done their schooling based in the national capital. Help the students with their union territory domicile quota.
Following the receipt of applications, a date will be announced for the exam once the applications have been processed. There will be a written examination conducted by DTTE, and the merits of the applicants will be determined based on the results of the examination. This list will be made available to students on that date so they can check it. The purpose of a merit list is to limit students' abilities and to select them for courses according to their level of ability. Any student who qualifies for counseling services is welcome to participate in the process.
Fees
The registration fee for Delhi ITI Admission is Rs 200 by online mode (Credit Card, Debit Card, Internet Banking). The application form fee is non-refundable at Delhi ITI. The approx fee is Rs 1500 for admission. Fees may be changed according to the next Delhi ITI 2023.
ITI Delhi Application Form 2023
For all the offered programs, ITI Delhi Application forms will be available at @itidelhi.admissions.nic.in. The ITI application forms can only be filled out in the English language. The fee for registration at ITI Delhi is Rs 200. Also, before releasing the application forms for ITI courses, the Institute provides detailed registration guidelines for students.
Delhi ITI Application Form Process
ITI will soon release the application form for session 2023. Registration to any course will be made online by filling an application form. There is an application form fee of Rs 200 that is the same for all applicants.
The registration for the entrance test goes from the way of eligibility and trade decisions. As soon as you choose your trade, then go for filling out the application form.

Visit the website of Delhi ITI Admission- https://itidelhi.admissions.nic.in/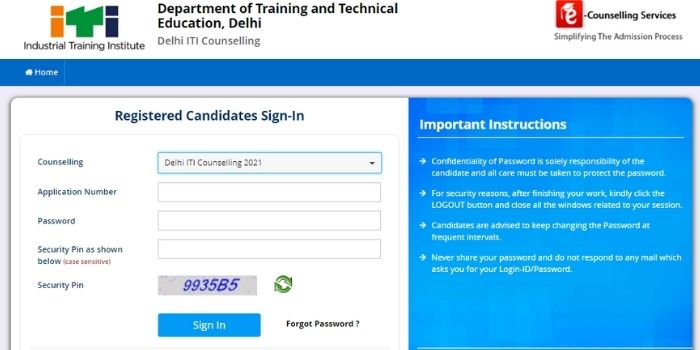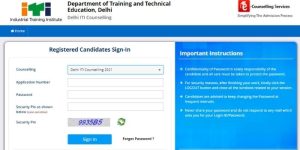 With your phone number, register yourself on that website. After that, fill the form online with the correct details.

The details should be accurate because afterward, in creating the admit card.

If you get admission, not only for accept cards, but the certificates issued will also have the exact incorrect details. As you fill in all your details correctly, just cross-checked it and click submit.
Documents Required
Some documents have to be attached—the scanning of documents is required for this. You have to be careful in scanning the documents. The scanned documents should be readable.
   Passport Size photograph

   Handwritten signature

   Mark sheet with minimum educational qualification

   Government-issued ID proof such as Aadhar, Voter ID.
Note: The digital size of these scanned documents should not exceed 50KB.
Delhi ITI Course Lists
Wireman Engineering

Welder (Gas & Electric) Engineering

The weaving of Fancy Fabric

Turner Engineering

Tool & Die Maker Engineering

Surveyor Engineering

Sheet Metal Worker Engineering

Secretarial Practice

Refrigeration Engineering

Pump Operator

Plumber Engineering

Pattern Maker Engineering

Motor Driving-cum-Mechanic Engineering

Mechanic Tractor

Mechanic Radio & T.V. Engineering

Mechanic Motor Vehicle Engineering

Mechanic Electronics Engineering

Mechanic Instrument Engineering

Book Binder

Bleaching & Dyeing Calico Print

Manufacture Foot Wear

Machinist Engineering

Letter Press Machine Minder

Leather Goods Maker

Information Technology & E.S.M. Engineering

Hand Compositor

Hair & Skin Care

Fruit & Vegetable Processing

Foundry Man Engineering

Fitter Engineering

Embroidery & Needle Worker

Electrician Engineering

Dres's Making

Draughtsman (Mechanical) Engineering

Draughtsman (Civil) Engineering

Diesel Mechanic Engineering

Cutting & Sewing

Commercial Art

Carpenter Engineering
Delhi ITI Seat Allotment
During the Month of September 2023, the administration will put a notification on the Delhi ITI Admission website about the results. As soon as the results will be out, the merit list students will be called for the seat allotment. The merit list is created with the reservation policy of the government. The total number of ITI is 19, and all have the 85% seat policy for the students of union territories.
The general category students have only 15% of seats, so the competition becomes tough for students. There is also 30% reservation for women, 15% for Sc, and 7.5% for ST. The union territories students are preferred first over others on the merit list. In counselling, the students have to verify themselves using the documents. The documents should be original and submit it to the admission authority. We hope the information given by us helped you!
Delhi ITI Counseling
The qualified aspirants will participate in counseling on the scheduled date released by DTTE on its official web portal, along with documents for verification. The students can also select their favorite ITI department during the counseling process. After counseling, the names of shortlisted candidates will appear on the website of Delhi ITI Admission. So students are strongly suggested to visit the website of ITI Delhi daily for updates on counseling.
Counseling notice for Delhi ITI admission will release soon; aspirants are to check out the website regularly. Aspirants have to pay a registration fee of INR 200 for registration for ITI admission 2023. Aspirants applying will find more info on the ITI Delhi Admission official site from a section of admission. candidates may go through the application process as described in the above instructions.
ITI Delhi Colleges List
ITI, Pusa, New Delhi –110012

ITI, Arab-Ki-Sarai, Nizamuddin

ITI Shahdara, Delhi-110095

Sir C.V. Raman ITI, Dheerpur, Delhi – 110009

ITI, Malviya Nagar, New Delhi-110017

ITI, Jail Road, (Opposite Tihar Jail), New Delhi110064

ITI, Jahangir Puri, KBlock, Jahangir Puri, Delhi-110033

ITI, Nand Nagri, Delhi-110093

Dr. H.J. Bhabha ITI, Khichripur, Mayur Vihar Phase I, Delhi-110091

Ch. BrahmPrakash ITI, Jaffarpur, New Delhi-110073

Lala Hans Raj Gupta ITI, DSIDC Industrial Complex, Narela, Delhi-110040

Veer Savarkar Industrial Training Institute, Pusa, New Delhi- 110012

ITI Mangolpuri, SBlock, Industrial Area Mangolpuri, Delhi-110083

Jija Bai ITI for Womens, Siri Fort August Kranti Marg, New Delhi-110049

Savitri Bai Phule ITI for Women, Gokhale Road, Mori Gate, Delhi–110006

ITI for Women, Tilak Nagar New Delhi- 110018

ITI for Women, Vivek Vihar, Delhi – 110095

Extension Centre of ITI Jail Road, Old Employment Exchange Building, Hastsal, New Delhi.- 110059

ITI For Women (MSDP) ITI Nand Nagari Campus, Delhi-110093
Delhi ITI Contact Details:
Address: Near burari bypass, Dheerpur New Delhi – 110009
Phone: +91 11 27608082
E-mail: caohelpline@gmail.com
Source: Official Website
Frequently Asked Questions
How can I get admission in ITI Delhi?
Students can fill out the online application form provided by ITI Delhi. The admission will be merit-based.
What are the fees of ITI Delhi?
The fee depends on the courses chosen by a student.
Which ITI course is best after 12th?
There are many courses popular among students and can be chosen by them according to their interests.